When planning a vacation to Africa, some people already have their hearts set on a country or two. Others, on the other hand, are still completely clueless. We compiled several tips that are not necessarily in order but are laid out to help you to kickstart your African holiday brainstorming. Today we look On How to Plan your Safari in Africa:
-Where to go and seasonal changes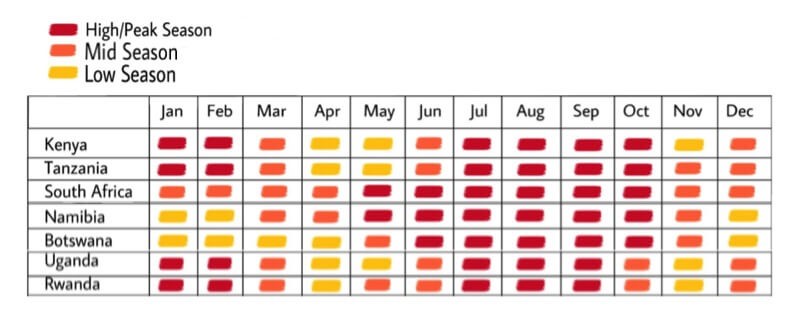 Countries get more crowded; prices get steeper and safaris get fully-booked faster during peak season. This is the opposite during the low season. Cheaper prices, fewer tourists and a relatively higher chance of booking your desired safari accommodation/tour/activity even with minimal lead time. You have to consider, however, the animals you want to see and the activities you want to do.
If you are aiming to see certain animals or witness a particular event, like the Great Migration around July to October, you also need to familiarize yourself with the seasons of your target country and the perfect time to see them. Game viewing is best during the drier and hotter seasons, although it is generally good in most parts of Africa all-year-round. For birding, it is known to be better during wetter months when nesting and breeding take place, and most migrant birds inhabit the area.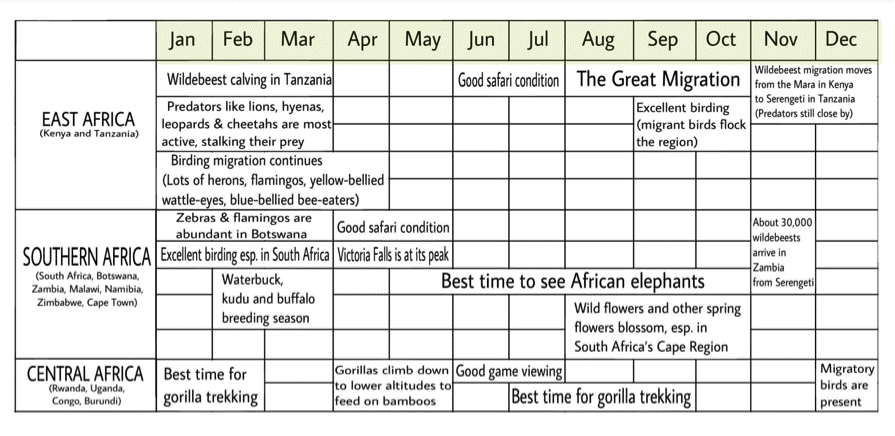 See top safari destinations in each country:
As there is a long and varied list of activities you can do, you should also take into account those that you wish to experience and of course the purpose of your travel.
Are you on a honeymoon or a romantic getaway?
If so, what activities do you want to add?
Perhaps a romantic candlelight dinner by the bush or maybe a hot air balloon ride?
Are you traveling with kids or elderlies? Because let's face it, tagging kids along is a game-changer.
Also, elders aren't so much inclined to long drives and an adventure-packed itinerary like younger travelers.
How about walking safaris?
Beach trips?
How many days do you want to spend on a safari?
Now with that said, see you on our next blog for you to learn more on proper planning for safaris.